The Santa Fe Public Schools wants to ensure each student has a device they can use both at school and at home for the upcoming school year and the first day of school for most students is Wednesday, August 17, 2022. Students in Pre-K and kindergarten will use iPads, students in grades 1 through 12 will use Chromebooks. There are just 3 days remaining for students to stop by the Technology Drive Thru to complete device exchanges or new device pickups. Today (08/12/2022): 9 AM to 5:30 PM Monday (08/15/2022): 9 AM to 5 PM Tuesday (08/16/2022): 9 AM to 5 PM The Technology Drive Thru is located at 2516 Cerrillos Road. The street to the Technology Department is next to the skate park on Camino Carlos Rey. - Students NEW to Santa Fe Public Schools should come to the Technology Drive Thru to pick up their new iPad or Chromebook. - Students who were in kindergarten last school year and will be in 1st grade this school year, need to exchange their iPad for a Chromebook. They must bring their iPad and charger for the exchange. - Students who will be in grades 2 through 9 this school year, need to exchange their old Chromebooks. They must bring their old Chromebook and charger for the exchange. - Returning students, who will be in grades 10 through 12, will NOT need to exchange their Chromebooks. On the day of device exchange or pickup, a parent/guardian must be in the vehicle with a valid driver's license or other official photo ID along with your child's Santa Fe Public Schools Student ID Number. Please call 505-467-4357 should you have any questions. Please note that the Drive Thru will be closed each day from 1 to 2 PM. Additionally, the Drive Thru will shut down early in the event of inclement weather such as thunder, lightning for the safety of families and staff.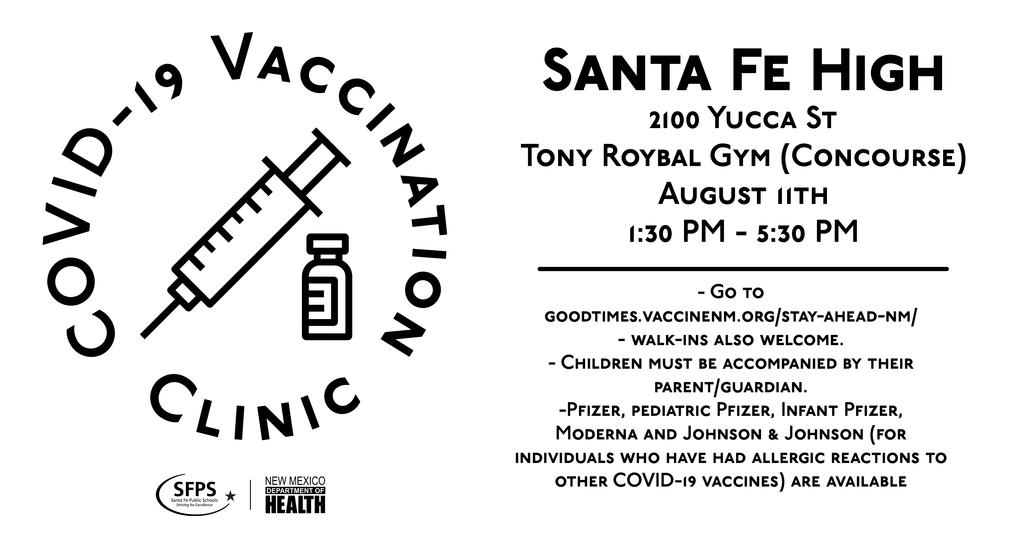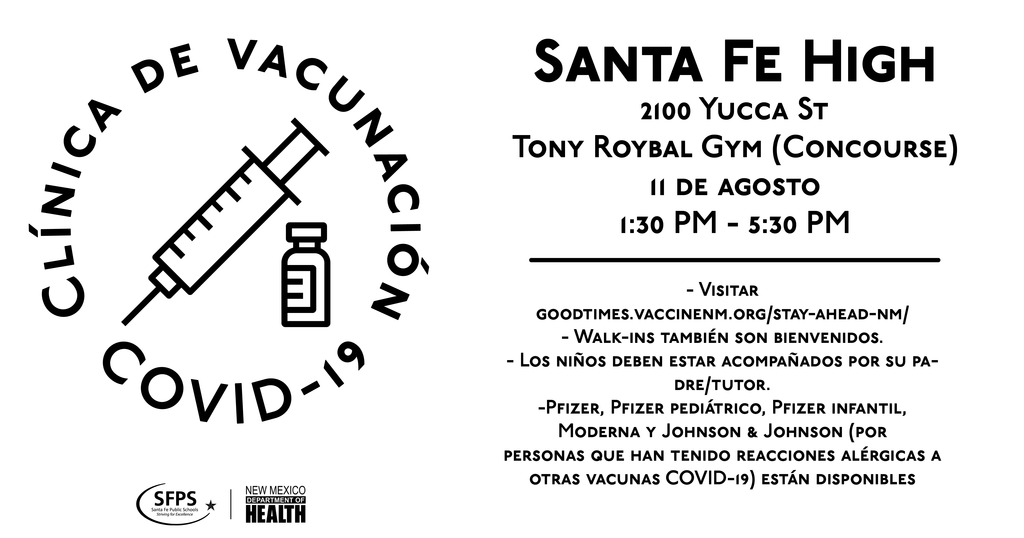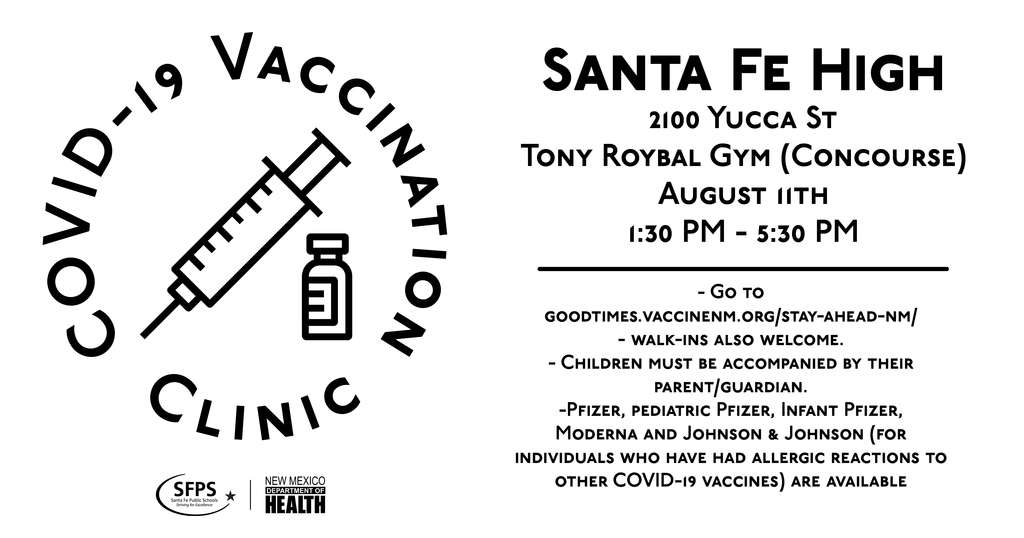 Now we take a break for a moment's rest and some basic travel supplies at the most northern of our Santa Fe Public Schools - the idyllic Tesuque Elementary. This hidden gem has served the children of Tesuque Village, Chupadero, Rio en Medio and Tesuque Pueblo since 1930. Tesuque Elementary School provides an Innovative and Expeditionary program with a Transformational Leadership style - a multi-sensory learning "beyond the classroom" approach known as SEL/Sensory developmental academic program where children have environmental experiences and stimuli to guide their cognitive development. It is one of the most innovative and ground-breaking new forms of education. These diverse students have daily opportunities to learn about a variety of cultures, explore the attributes of living in New Mexico and make use of their ideas for the betterment of the world. In addition, Tesuque Elementary offers: --Field experiences --An award-winning art program --Music --Band (4th-6th Grade) --Choir --Violin (1st-6th Grade) --Gardening --Competitive sports teams Tesuque Elementary is also known for their supportive student families, a dedicated surrounding community and a generous volunteer group that helps them with fundraising, tutoring and much more.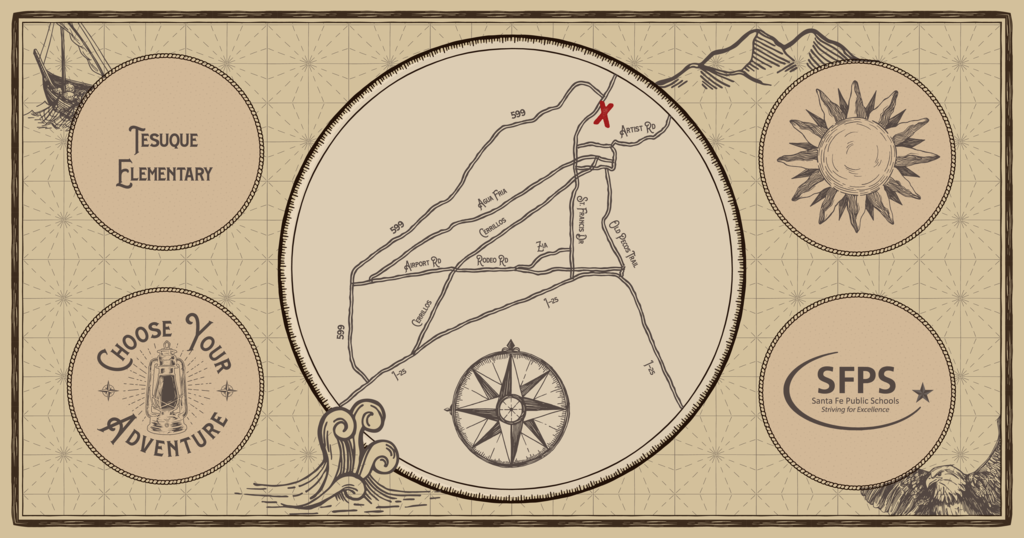 The Board of Education is looking for your input on the redistricting of school board member boundaries! This is NOT the rezoning of schools, the change is only to the boundaries of school board members. Learn more:
https://www.sfps.info/o/sfps/page/redistricting

Santa Fe Public Schools has so much to offer. Let us take you on a Journey Through SFPS. Over the next six weeks, we are going to travel across Santa Fe, making a stop every day at a destination (school) to show our voyagers (students) what makes each destination special. Come along for the journey, and Choose Your Adventure at Santa Fe Public Schools.


Wondering what the Air Quality Index is or where the smoke in the air is coming for? You can find out here:
https://fire.airnow.gov/#

HAPPY MOTHER'S DAY TO ALL MOMS!!! SFPS celebrates your tireless support, sacrifices, and love! We thank you!




We are loving the new app! Access documents, news updates, and even emergency notifications, right from your pocket! Have you downloaded it yet? Download for Android:
https://bit.ly/3JmeZhA
Download for iPhone:
https://apple.co/3v3qvt5

Expecting an email from us but haven't gotten it? Check your Spam folder! Occasionally our PreK Lottery, K-12 Lottery and Registration emails end up in Spam folders, so make sure you double-check! If you need further help, call 467-4111!

SFPS will be submitting applications under ESEA Title I, II, III and Title IV, Part A programs this spring. We welcome community input on our application! Please participate in our brief survey or join us for a Zoom meeting April 19 @ 12 PM. More information can be found here:
https://www.sfps.info/page/federal-programs

Do you have a teacher or educational support professional (ESP) that you can't stop talking about? Are they are just so exceptional, you want the world to know about them? Nominate them for Teacher of the Year or ESP of the Year! Nominations are accepted until April 25th. Nominate here:
www.sfps.info/page/teacher-and-esp-of-the-year